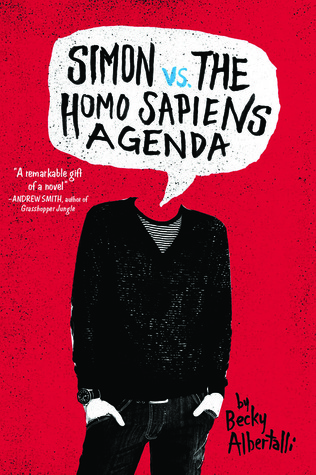 Simon vs the Homo Sapiens Agenda
Becky Albertalli
YA Contemporary Romance
Published: April 2015 (Balzer + Bray)
Format: ebook
Pages:
303
Rating: 3 of 5
Sixteen-year-old and not-so-openly gay Simon Spier prefers to save his drama for the school musical. But when an email falls into the wrong hands, his secret is at risk of being thrust into the spotlight. Now Simon is actually being blackmailed: if he doesn't play wingman for class clown Martin, his sexual identity will become everyone's business. Worse, the privacy of Blue, the pen name of the boy he's been emailing, will be compromised.

With some messy dynamics emerging in his once tight-knit group of friends, and his email correspondence with Blue growing more flirtatious every day, Simon's junior year has suddenly gotten all kinds of complicated. Now, change-averse Simon has to find a way to step out of his comfort zone before he's pushed out—without alienating his friends, compromising himself, or fumbling a shot at happiness with the most confusing, adorable guy he's never met.


Warning:
Spoilers and all that jazz
So, to start off, this book was cute and fun. It was light and nothing too,
too
dramatic was happening. The references to popular culture was nice, although if you somehow didn't get them, then that sucks. The obsession with Oreos was, uhmm, cute. But at the same time, I was like, "Shut up. Oreos aren't that good." I feel like a lot of what I didn't like was because I don't really relate well, while I understand that other people would relate better and enjoy that more than me. I found the reference to anime and manga interesting, but the moment she said
Fruits Basket
, I was like, "Noooo, not that one!" Which once again makes the relating thing hard. (I'm sorry to anyone I offend b/c I don't like Fruits Basket and/or Oreos =p)
One thing that bothered me was that Simon didn't know his friends. Is he just a selfish person? I don't understand how they can have a deeper relationship if he doesn't know anything about them. I get that he was trying to make up for that, but still, c'mon Simon. Get with it.
The love interest was obvious enough, but if you just forget about it for a while and try to stop guessing all the time, I think you'll have a better time. It makes the reveal a lot cuter and shocking.
There are things I liked, like that the characters were all different from each other. I think that made them realistic. The little dramas that sprouted up among the friend group. So real. My friends did that all the time. The writing was very appropriate for the voice of Simon. It was very teen-esque.
The relationships between the side characters made for a nice subplot. It wasn't finished off or completed in a full way, which I like. Life doesn't just come to a close, it keeps going on and shaping.
The one major problem I had with the book was that it was too cute and light. It will be easy to forget. I don't think I wanted more, I just don't handle these types of stories well. I like character building and focus on their relationships, so you'd think I'd like this one more. But really, in the end, it wasn't enough for me. I wouldn't stop you from reading it, I would really recommend it. Just bear these things in mind.
Final Rating:
3 of 5