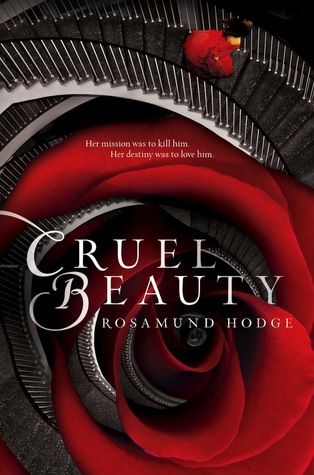 Cruel Beauty
Rosamund Hodge
YA, Paranormal, Fantasy, Romance
Published: January 2014 (Balzer + Bray)
Format: digital
Pages:
342
Rating: 3 of 5
Based on the classic fairy tale Beauty and the Beast, Cruel Beauty is a dazzling love story about our deepest desires and their power to change our destiny.

Since birth, Nyx has been betrothed to the evil ruler of her kingdom-all because of a foolish bargain struck by her father. And since birth, she has been in training to kill him.

With no choice but to fulfill her duty, Nyx resents her family for never trying to save her and hates herself for wanting to escape her fate. Still, on her seventeenth birthday, Nyx abandons everything she's ever known to marry the all-powerful, immortal Ignifex. Her plan? Seduce him, destroy his enchanted castle, and break the nine-hundred-year-old curse he put on her people.

But Ignifex is not at all what Nyx expected. The strangely charming lord beguiles her, and his castle-a shifting maze of magical rooms-enthralls her.

As Nyx searches for a way to free her homeland by uncovering Ignifex's secrets, she finds herself unwillingly drawn to him. Even if she could bring herself to love her sworn enemy, how can she refuse her duty to kill him? With time running out, Nyx must decide what is more important: the future of her kingdom, or the man she was never supposed to love.

Warning: Spoilers!!
Nyx was a fun character - snarky and determined, but when you really look at her, she was so confusing. She could never make up her mind and didn't try to infiltrate at all like she was supposed to. She trained basically her whole life to marry Ignifax and then when she finally is married to him, she allows her anger to take over her multiple times. She doesn't try to hide her rage. I found her to be a weak and immature girl that tried her best to act strong but simply couldn't control her emotions. It do find it endearing that Ignifax could look past her faults and still love her.
Shade was the shadow of the Gentle Lord and bound to him. He was a captive of a curse and due to this, Nyx empathized with him. She found herself to be rather drawn to him and this feeling of companionship caused her to kiss him in a moment of thoughtlessness. I mean, that's all good and well. I don't particularly commend the idea of kissing random men, but I get it. But the problem arises when Nyx starts to read into it. She deceived herself into the idea that Shade loved her and she loved him. I seriously doubt that she did, I suspect that the lack of emotional support she received in her life drove her to believe this.
Ignifax, the Gentle Lord, was much better to me, but that could be because we weren't in his head. He had experiences with people that made him dislike humans for their pettiness. But he seemed to understand how corrupt the people that wanted to make deals with him were and thought they deserved what came to them. I honestly agree with him. It was their own foolishness that caused them problems. Past his initial characterization of being sort of a jerk, Ignifax turns out to be a charming and intelligent man that wants companionship.
The love triangle aspect was sorta annoying, but I forgave it for reasons that are revealed at the end.
I did feel that the relationships between the characters could have been expanded upon. It felt like they were glossed over and left to a time skip to say, "they spent time together." I did like how all the lust was called "lust" and not sugar-coated with the word "love" for a long time. I seriously wish that this was a New Adult or Adult book because I would have loved more of the "steamy" scenes. At the point in the story where Nyx and Ignifax were in a relationship, it really bothered me because she would hit Ignifax a lot. I know it didn't hurt him, but the emotional implications behind her actions can hurt more than the actual act itself. She did apologize at one point, so there's that. One other thing that bothered me, though, was when Nyx returns home and her sister tells her that if she truly loved her, she would kill her husband. Nyx was so quick to agree and I really hate that. Her character seemed so much more than that and I feel that maybe this could have been accomplished in another way.
The writing itself was very lovely and I will probably be reading Hodge's other books. The pace was alright. The beginning was boring and full of information, but it was important to read. The middle had parts that dragged and were repetitive. The ending was... I don't know how to describe it. It was trippy and I still don't really understand how it worked. I know what happened, it's just I don't get why it worked out like it did.
The world building, though, was odd and confusing. I liked the mixture of Roman/Greek mythology, but it was mentioned so often. I don't know why it would be as it didn't add anything to the actual story at points. I feel that it could have been less defined, especially since I don't really know that much about it and it just served to confuse me for a brief moment and didn't add much to the story. The magic element was also confusing to me. I just think it was badly explained at first, but as the book went on, I started to understand how it worked a little bit more. This take on Beauty and the Beast was new to me and I really did enjoy it, even through all of my complaining. I enjoyed how Hodge seemed to mix together more than one fairy tale, as well.
TL;DR

Good:
+ unique twist on fairy tale retelling
+ mixture of multiple fairy tales
+ complex characters
+ lovely writing
+ lusty scenes were spot on
Bad:
- Nyx couldn't decide what she was doing and feeling half the time
- magic was confusing and explained badly, imo
- overkill with mythology references
- can start to drag at points
- love triangle/insta-love vibes
- confusing ending
- character relationships were lacking
Final Rating:
3 of 5