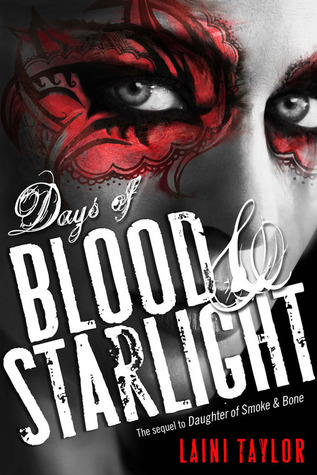 Days of Blood & Starlight
Laini Taylor
[Daughter of Smoke & Bone #2]
YA, Paranormal, Urban Fantasy
Published: November 2012 ( Little, Brown Books for Young Readers )
Format: digital
Pages:
517
Rating: 4.5 of 5
Once upon a time, an angel and a devil fell in love and dared to imagine a world free of bloodshed and war.

This is not that world.

Art student and monster's apprentice Karou finally has the answers she has always sought. She knows who she is—and what she is. But with this knowledge comes another truth she would give anything to undo: She loved the enemy and he betrayed her, and a world suffered for it.

In this stunning sequel to the highly acclaimed Daughter of Smoke & Bone, Karou must decide how far she'll go to avenge her people. Filled with heartbreak and beauty, secrets and impossible choices, Days of Blood & Starlight finds Karou and Akiva on opposing sides as an age-old war stirs back to life.

While Karou and her allies build a monstrous army in a land of dust and starlight, Akiva wages a different sort of battle: a battle for redemption. For hope.

But can any hope be salvaged from the ashes of their broken dream?

I was quick to dive back into the story of Karou and her companions after I finished
Daughter of Smoke and Bone
. Admittedly that may have been part of the reason it took me so long to finish. Sometimes I get tired of reading the same characters and their struggles. At some point, though, I started to pick up pace with the help of a few fan mixes.
The story picks back up pretty close to where it left off, but, wow! So much happened in this book! There were so many twists and turns of the plot. It always seems that nothing ever works out right for our poor MCs, which always makes for an interesting read. The plot advancement in this went all crazy! I don't even know how to explain it. You just have to read it. Just do it. And, as always, Laini Taylor has a nice way with words even if she makes me have to look a few of them up.
The character of Karou developed so far in this book. She's such a strong character, not only in all of her strengths but also in all of her weaknesses. She never backs down from what she feels is right no matter how difficult the journey will be. She bares so much weight on her that I'm surprised that she can handle it. She could simply leave the chimaera and return to her old, easier life, but she never does.
The return of Zuzana and Mik was a nice one. I dislike when authors make these side characters to just forget about them and they never reappear in the story. But that's not the case at all in this book! The bond that Karou and Zuzana have was shown to be important to both of them. The love between Mik and Zuzana is always a little awkward for me to read. They are so touchy in that love-sick mushy way, but it's not really a complaint.
And of course, Akiva. He also shows a lot of growth in this book. He's not just around to love Karou, he makes himself useful in his own world with his family. It's good to see that they can be without each other. Sometimes I feel that characters become too much of one another and they cannot exist freely. I mean, of course that doesn't mean that they don't think about the other. Akiva is pretty set on loving Karou and Karou is pretty set on trying to hate him.
The Wolf aka Thiago was such a mighty character to see return from Karou's past. He was always trying to use Karou for his own benefit and he makes for an upfront villain. He's asserting and wants what he wants without caring for the good of everyone else.
The relationship between Karou and Akiva was so strained and emotional that I really started to care about it. The past they have and the reasons they can't be around each other are hard to read because you don't want that to be the reality of the situation. I feel that Karou is justified in her thoughts because of what Akiva did to her.
TL;DRGood:
+ character development like woah!!!
+ numerous side characters
+ plot advancement
+ writing
+ characters can exist on their own
+ relationships are top notch material
Bad:
- a bit longer than necessary but c'mon, that's not really that bad
Final Rating:
4.5 of 5